Atlas Fibre offers FR-4, a glass epoxy laminate that is similar to G-10 with the addition of being flame retardant. FR-4 is known for having good characteristics for fabrication, mechanical strength, and insulation resistance. Learn more about the uses, benefits, and properties of FR-4 material.
What Is FR-4?
FR-4 consists of woven fiberglass and a flame-retardant epoxy resin. It's often used as an insulator in dry or humid conditions. Because it offers consistently excellent mechanical and electrical performance, it's considered a generalist material that works for various applications.
The FR in FR-4 stands for "flame retardant," while the 4 signifies that it's a glass epoxy.
FR-4 Material Properties
FR-4's most notable property is its flame retardance. Flame-retardant materials such as FR-4 are imbued with chemicals that help slow the spread of fire. FR-4 also has excellent electrical properties, making it a good pick for use in circuit boards.
Other notable FR-4 properties include:
Tensile strength: 65,000 psi
Compressive strength: 38,000 psi
Flexural strength – LW -A 0.125″: 60,000 psi
Bond strength: 2,300 psi 15 MPa
Shear strength: 21,500 psi 148 MPa
Hardness, M scale: 115
Specific gravity: 1.85
Flammability rating: 94V-0
Maximum temperature: 140° Celsius (284° Fahrenheit)
Water absorption — 24 hours: 0.10
Izod impact strength at 49°C – LW: 14.00
*Atlas Fibre LLC provides this data as information only and does not imply any warranty for its use or application. Test results for a specific sheet or lot are available for a fee upon request.
FR-4 vs. G-10
FR-4 is the younger sibling of G-10, a glass epoxy material first introduced in the 1950s. While there are slight property differences between the two types of glass epoxy, the most notable difference is that FR-4 is flame retardant.
If you need to, you can swap in FR-4 for applications that call for G-10. However, you can't use G-10 in applications that require FR-4, as G-10 doesn't offer the same resistance to flame.
FR-4 Fabrication
FR-4 is fabricated in a way similar to G-10 and can be worked on standard cutting machines. Both materials have a low shearing strength and require less rake and greater clearances of the cutting tools.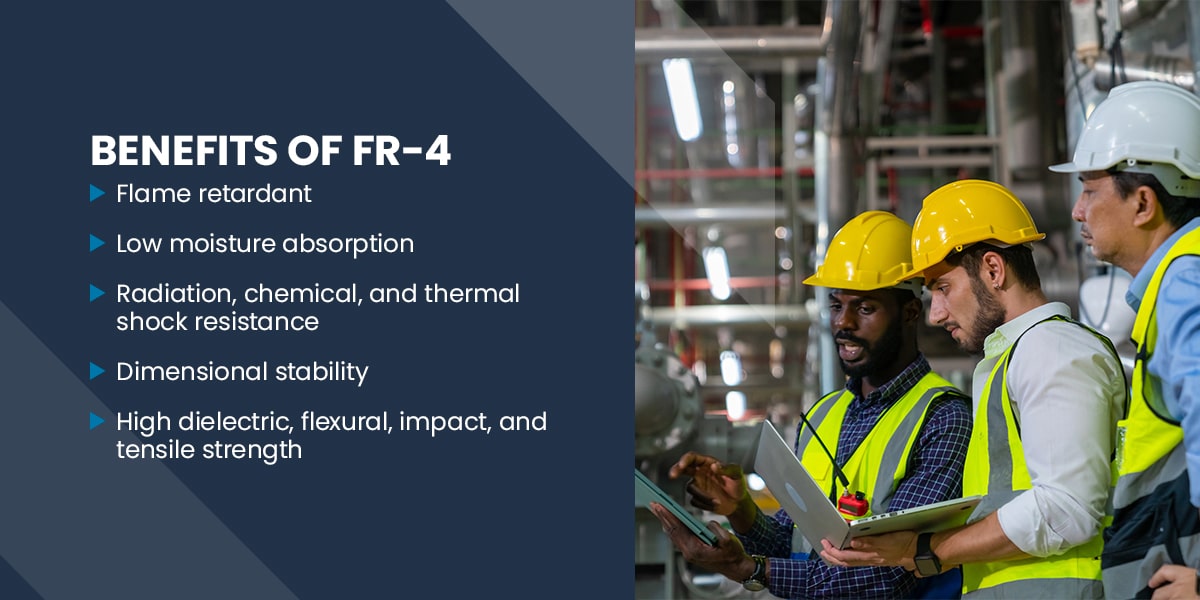 Benefits of FR-4
FR-4 offers several benefits, including:
Flame retardant
Low moisture absorption
Radiation, chemical, and thermal shock resistance
Dimensional stability
High dielectric, flexural, impact, and tensile strength
Depending on how and where it is used, FR-4 can offer a long life span. When placed inside of equipment or machinery, FR-4 can be a permanent material that doesn't need replacement. However, ultraviolet light will compromise the substance's structural integrity and shorten its life considerably, so it will need regular replacement in outdoor applications.
Applications for FR-4 Material
FR-4 is available in sheets, rods, and tubes. It is used across multiple industries and applications, representing an essential element in the following products:
Printed circuit boards
Insulators
Jigs and other fixtures
Medical diagnosis equipment
Test boards
Arc shields
Screw terminal strips
Relays
Switches
Rocket cases
While G-10 is still occasionally used, FR-4 has largely replaced it in many applications.
Contact Atlas Fibre for a Quote
Should you use FR-4, G-10 or another material entirely? If you're not sure, let us help. Atlas Fibre is North America's primary supplier of thermoset composite materials. We have the largest in-stock inventory on the continent. We're here to act as a resource center for you, helping you choose the materials that will best serve your project and reduce your project complexity and costs.
Contact us today for a quote or assistance with product selection.