Atlas Fibre carries a range of glass epoxy composite materials, including G-10, an industrial laminated plastic. G-10 is the older sibling of FR-4, another type of glass epoxy. Learn more about the properties, applications, and benefits of G-10 glass epoxy.
What Is G-10?
G-10 consists of woven fiberglass and an epoxy resin binder. Originally used in printed circuits, it was introduced in the 1950s and was the first glass epoxy laminate. G-10 sheets have excellent electrical properties and chemical resistance. They also have high strength, making the material very versatile.
Variations of G-10 are often ideal for use in cryogenic applications because of the material's ability to withstand subzero temperatures. Some versions of G-10 are also flame retardant.
G-10 Properties
G-10 has high dielectric, tensile, and flexural strength. It's chemically resistant and can resist thermal shock. Notable G-10 plastic properties include the following:
Tensile strength: 65,000 psi
Compressive strength: 40,000 psi
Flexural strength – LW -A 0.125″: 75,000 psi
Bond strength: 2,200 psi 15 MPa
Shear strength: 19,000 psi 131 MPa
Hardness, M scale: 110
Specific gravity: 1.8
Flammability rating: 94HB
Maximum temperature: 140° Celsius (284° Fahrenheit)
Water absorption — 24 hours: 0.11
Izod impact strength at 49°C – LW: 14.00
*Atlas Fibre LLC provides this data as information only and does not imply any warranty for its use or application. Test results for a specific sheet or lot are available for a fee upon request.
G-10 Fabrication
G-10 has a low shearing strength, which allows for higher feeds and speeds during fabrication. Less rake and greater clearances are required of the cutting tools, but it can otherwise be worked using standard machine tooling.
G-10 vs. FR-4
G-10 is closely related to FR-4 glass epoxy. FR-4 is G-10 with the addition of being flame retardant. While similar, the two materials aren't exactly interchangeable. If your application calls for G-10, it's often acceptable to use FR-4 in its place. However, if your application calls for FR-4, you can't use G-10 as a substitute.
Benefits of G-10
There are several notable advantages of using G-10 in certain applications. Among the material's benefits are:
Resistance to radiation
Low cold creep
Dimensionally stable
High tensile, dielectric, flexural, and impact strength
Resistant to chemicals and thermal shock
Low dissipation factor
Low moisture absorption
Appropriate for certain cryogenic applications
G-10 can have an incredibly long life depending on where and how it is used. While exposure to sunlight can shorten its life span, it's virtually permanent when used on the interior of machines.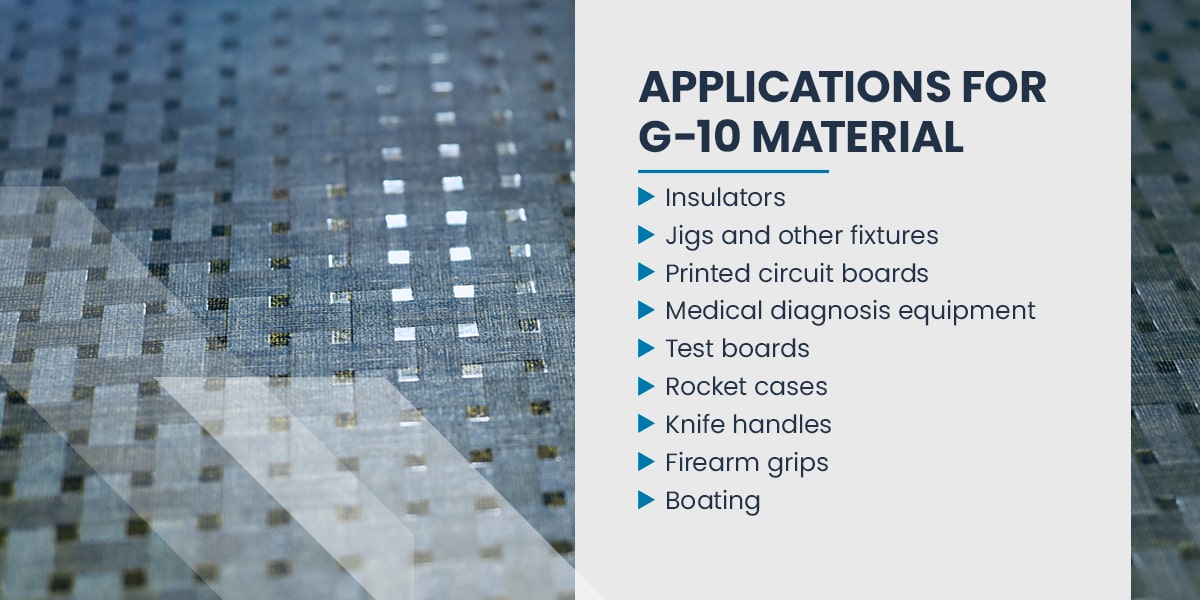 Applications for G-10 Material
G-10 is available in tubes, sheets, and rods and in a range of colors to fit specific needs. It's appropriate for various applications, including uses in the medical industry. Since it has excellent electrical properties, it's frequently used as insulation.
Examples of uses for G-10 include:
Insulators
Jigs and other fixtures
Printed circuit boards
Medical diagnosis equipment
Test boards
Rocket cases
Knife handles
Firearm grips
Boating
Contact Us for a Quote
Is G-10 the right material for your project? Atlas Fibre can help you decide. We're the main supplier of thermoset composite materials in North America and have the largest in-stock inventory.
We want to help you minimize project costs and complexity while ensuring you find the perfect material to fit your application. Connect with our team to learn more about G-10 or request a quote.