G-11 is a glass epoxy laminate that has some properties in common with G-10. Its most notable property is its ability to withstand very high temperatures.
Atlas Fibre carries G-11 and several other glass epoxy laminates. Learn more about the benefits, uses, and properties of G-11.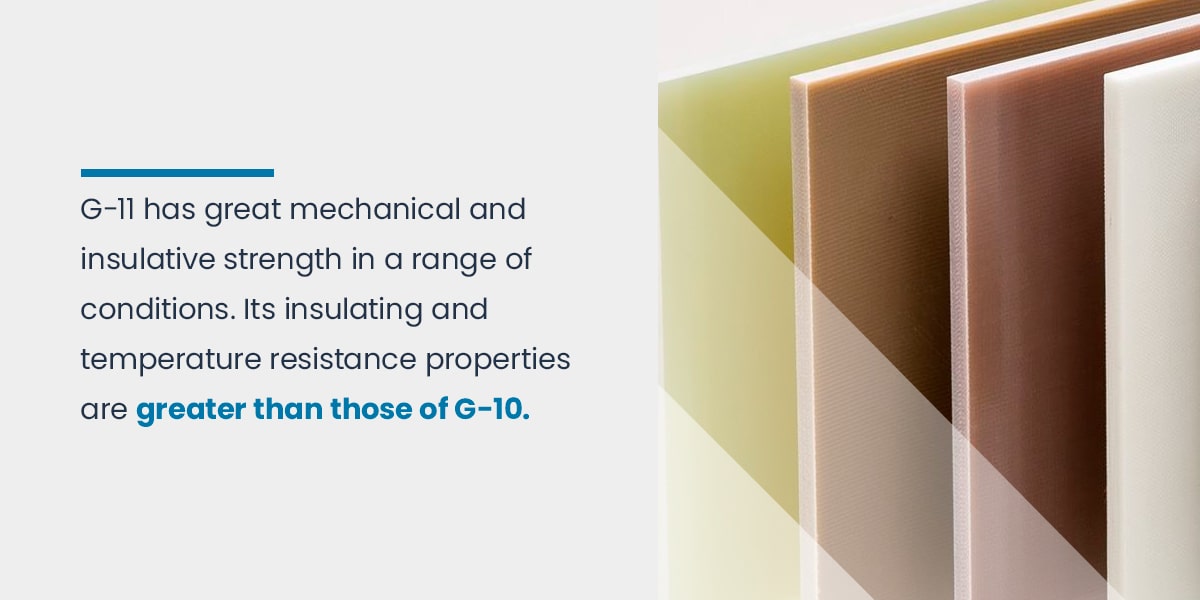 What Is G-11?
G-11 is a thermoset industrial fiberglass laminate made from filament glass cloth and an epoxy resin. Its natural color ranges from yellow-green to amber. G-11 has great mechanical and insulative strength in a range of conditions. Its insulating and temperature resistance properties are greater than those of G-10.
Two classes of G-11 glass epoxy are available. Class H is intended for use in applications for operating temperatures up to 180 degrees Celsius. Class F is designed for use in applications with temperatures up to 150 degrees Celsius.
G-11 is related to FR-5 glass epoxy, which is the flame-retardant version.
Notable G-11 properties* include:
Tensile strength: 63,000 psi
Compressive strength: 37,000 psi
Flexural strength – LW -A 0.125″: 75,000 psi
Bond strength: 2,200 psi 15 MPa
Shear strength: 22,000 psi 151 MPa
Hardness, M scale: 112
Specific gravity: 1.82
Flammability rating: 94HB
Maximum temperature: 180° Celsius (356° Fahrenheit)
Water absorption — 24 hours: 0.20
Izod impact strength at 49°C – LW: 12.00
*Atlas Fibre LLC provides this data as information only and does not imply any warranty for its use or application. Test results for a specific sheet or lot are available for a fee upon request.
G-11 vs. G-10
G-11 and G-10 are both types of glass epoxy. They have several properties in common and a few notable differences. G-11 has a higher operating temperature than G-10 glass epoxy. G-11 also has better mechanical properties at higher temperatures compared to G-10. It is generally noted to be a better insulator than G-10.
G-11 Fabrication
G-11 can be machined using standard cutting tools. It can also be wound into tubes using the convolute or filament winding methods.
Benefits of G-11
G-11 has several benefits. It's appropriate for use in both wet and dry conditions and can withstand temperatures up to 180 degrees Celsius (depending on the grade).
The notable benefits of G-11 include:
Chemical resistance
Low moisture absorption
High impact strength
High dielectric strength
High tensile strength
High flexural strength
Radiation resistance
Low cold flow
Low dissipation factor
Dimensional stability
Cryogenic serviceability
G-11 Material Applications
Atlas Fibre has G-11 available in sheet, rod, and tube form. We can cut the material to size based on your project needs. The following represent some of the common applications of G-11:
Aerospace equipment
Antenna insulators
Cryogenic insulation
Circuit board holders
End plates
Electrical equipment
Medical diagnostic equipment
Rocket cases
Solder frames
Terminal boards
Test fixtures
Test boards
Underwater equipment
Contact Atlas Fibre for a Quote
G-11 may be the right material for you if your project requires excellent strength and resistance to high temperatures. If you're unsure exactly what you need, talk to us. As the main supplier of thermoset composites in North America, Atlas Fibre is your resource center. We can answer any questions you have about thermoset composites and glass epoxy. We'll work with you to keep your project costs down and streamline your processes to attain consistent outcomes.
To learn more about G-11 or any of our other products, reach out to our team online. We'll be happy to help you navigate our selection and provide a competitive quote on the type and quantity of material you need.